SmartDeploy is an endpoint management software service that simplifies and accelerates Windows OS and application deployment across any PC. IT professionals choose SmartDeploy for ease-of-use, straightforward configuration, and customized deployment features.
One image to rule them all
SmartDeploy gives you the tools you need to achieve true hardware-independence:
Eliminate redundant IT infrastructure and costs by creating and maintaining one centralized golden Windows image.
Deploy a single golden Windows image to any PC endpoint, regardless of manufacturer or model, and streamline endpoint management.
Reduce the risk of failed deployments with baked-in best practices, straightforward configuration, and a simple console UI with wizard-driven operations.
Any device, any layer, at any time
SmartDeploy's unique layered approach enables single image management of Windows OS and applications, regardless of manufacturer or model. SmartDeploy breaks up monolithic PC images into separate driver layers, OS layers, application layers, and user data layers to be deployed, upgraded, and managed independently from each other.
Seamless console UI and user-friendly wizard-driven operations guide users through step-by-step wizards that simplify:
Building reference virtual machines.
Capturing images from a reference VM.
Creating answer files.
Deploying images.
Countless platforms, fewer headaches
SmartDeploy Platform Packs are pre-built, downloadable device driver packages created by our team of experts. Platform Packs enable you to deploy one golden image to a variety of PCs. We build each Platform Pack by manufacturer, model, and OS type, so it only contains the necessary drivers and software to deploy SmartDeploy images to target computers (physical or virtual). There are more than 1500 Platform Packs for all major OEM, business class models, and they're fully customizable, including running custom scripts or tasks such as updating the BIOS as a post image task.
Straightforward application deployment
SmartDeploy's Application Packs are files that contain all the information required to install individual software applications, execute scripts, and do other tasks automatically on SmartDeploy client devices:
Deploy, update, and patch applications within the application layer, in the OS layer, or both layers.
Download an existing Application Pack in the SmartDeploy Application Library, or create and import your own.
Install as part of the deployment, or pull it from a network server or cloud storage provider once the machine is imaged.
End-to-end cloud deployment
SmartDeploy Cloud Services enables unattended, repeatable cloud deployment to remote users regardless of network connection or VPN access.
Use Cloud Services to do the following:
Deploy Windows images, user data, Application Packs, and Platform Packs.
Leverage your existing Box, Dropbox, Google Drive, or OneDrive cloud resources.
Schedule deployments for a later time or allow users to delay implementation.
Troubleshoot and manage break-fix scenarios for remote endpoints.
Community of experts
Our support team is based in Seattle, WA and always ready for a rapid response. SmartDeploy support technicians respond to all inquiries to support@smartdeploy.com and post helpful tips at DeployCentral.com.
Find more information on different features and functions, including comprehensive articles on how to use SmartDeploy, see the User's Guide. Contact us at 888-7DEPLOY, or email sales@smartdeploy.com.
Old Version:
SmartDeploy is computer imaging software for deploying Windows operating systems and applications. IT professionals choose SmartDeploy to simplify the customization, deployment, and management of operating systems, applications, and data across any Windows device. It's easy to use, requiring little to no training, and it eliminates unnecessary IT infrastructure and costs, allowing you to invest resources elsewhere to advance your IT strategy and make work more enjoyable.

We are a privately owned, self-funded business dedicated to providing world-class solutions to IT implementers in small, midsize, and enterprise organizations all over the world. SmartDeploy is a low-cost, high-value solution for everyday use designed to simplify and reduce the workload for IT departments.

You can use SmartDeploy in several scenarios, the most common being provisioning new and existing devices with Windows and Windows applications. You can also use SmartDeploy for migration projects; you can migrate the user's data as well as the OS and applications. You can use SmartDeploy on premises or leverage third-party cloud storage providers for imaging over the internet. This work can all be done attended or zero-touch, making it ideal for break-fix scenarios as well.

Setting up SmartDeploy is simple and fits easily into existing infrastructure. To get started, you'll need an IT workstation to install SmartDeploy on; this can be a desktop, laptop, or server. You'll need some virtualization software—many versions are inexpensive or free. You'll need to build a golden reference computer, so you'll need your Windows OS installation media and any other line-of-business software installation packages. Lastly, you'll need some target devices that you want to reimage with SmartDeploy.

With SmartDeploy, you build your golden reference computer with the Windows version and applications necessary for a specific department or lab, and SmartDeploy will create a single, hardware-independent image of that software. You download prebuilt device driver packages from SmartDeploy, called Platform Packs, for your standard business class devices. There are several options for doing the actual deployment, and you can create various types of boot media to do so.

There are many options and customizable settings for deployment that can be performed zero-touch, unattended, or light-touch, as desired. During most deployments, SmartDeploy reformats the hard disk, runs any custom scripts that you designate, performs a data migration if you want, runs Sysprep automatically, automatically names the device, joins the domain, and installs all the correct drivers using its patented boot-time driver injection process. After a couple of restarts, the device is ready for the user.

Deployment time varies from approximately 10 to 60 minutes and depends on a number of factors including the overall size of the image, how the deployment is performed, and how performant the target device is.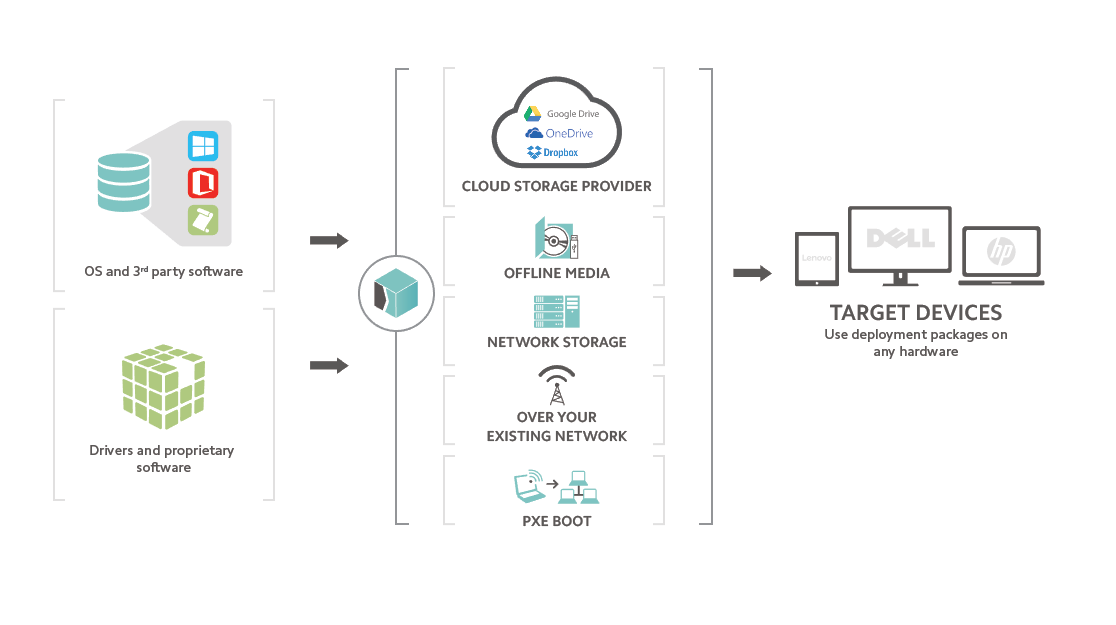 This knowledgebase contains articles that explain, in detail, how to use all the features and functions of SmartDeploy. If you have questions, we're here to help; call 888-7DEPLOY or email sales@smartdeploy.com.